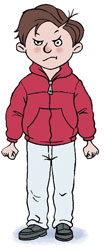 Rude Ralph is Henry's best friend. He never says please or thank you. He is ten years old. he likes slime, farting and junk food. His enemies are Moody Margaret, Sour Susan, Lazy Linda and Gorgeous Gurinder. He is a member of the Purple Hand Gang. He attends Ashton Primary School and is in year 5.
Appearance
Edit
Ralph has dark-brown hair and wears a red hooded top, white trousers and grey shoes.
Ad blocker interference detected!
Wikia is a free-to-use site that makes money from advertising. We have a modified experience for viewers using ad blockers

Wikia is not accessible if you've made further modifications. Remove the custom ad blocker rule(s) and the page will load as expected.